book one of our cosey
Hotelrooms
Our hotelrooms.
For those looking for a perfect getaway, Hedenstugan Bed and Breakfast Hotel offers the ideal destination. With seven fresh and cozy hotelrooms, guests are sure to find the perfect room for themselves. From single, twin and triple rooms, to two family rooms, Hedenstugan Bed and Breakfast Hotel provides a range of accommodation options to choose from.
Furthermore, each room comes with en suite bathroom, breakfast in the restaurant, sheets, towels and free parking on site, ensuring guests can enjoy the luxury of a home away from home. Moreover, all rooms are non–smoking, providing a clean and healthy environment that guests can relax in. Not only that, but the hotel is in close proximity to some of the most beautiful nature experiences, guests can truly enjoy a memorable stay.
So, if you are looking for the perfect getaway, Hedenstugan Bed and Breakfast Hotel is the ideal destination. With its combination of comfort and convenience, as well as its proximity to nature experiences, you can guarantee an enjoyable and memorable stay.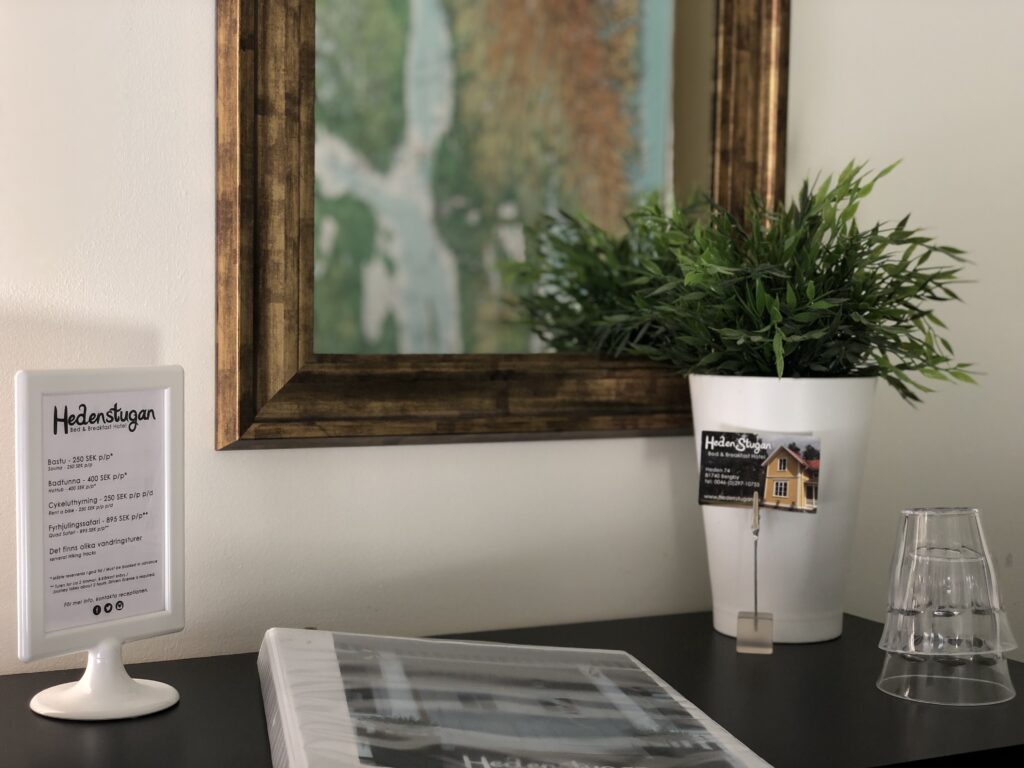 Enjoy your stay
Hedenstugan Bed and Breakfast Hotel offers seven fresh and cosy rooms, We have Single-, Double-, Trippel– and Family rooms. All rooms have en "en suite" bathroom.
Towels, bedsheets and breakfast are always included in your booking.
At Hedenstugan Bed and Breakfast Hotel we can help you with activities and experiences all year round. With our unique location in the middle of nature, we have many activities starting directly outside the hotel.
Amenities
All Rooms Include…
Free WiFi
Free high speed wifi in the hotel and outside terrace.
Free Parking
on site, with Tesla destination charging and other electric cars.
En Suite Bathroom
your private bathroom with shower and toilet and Free toiletries.
No TV in the rooms
Instead you can socialize and interact with other guests. 
Breakfast
Start the day with a decent breakfast, always included in the roomprice.
Outdoor training
Free access to an outdoor fitness and cross country ski illuminated track.